Discover the best dive sites in south ari atoll
Oceanholic Divers Dhigurah
Oceanholic Dive Centre is located on Dhigurah Island, South Ari Atoll. The waters around are home to manta rays, dolphins and particularly famous for the resident population of whale sharks.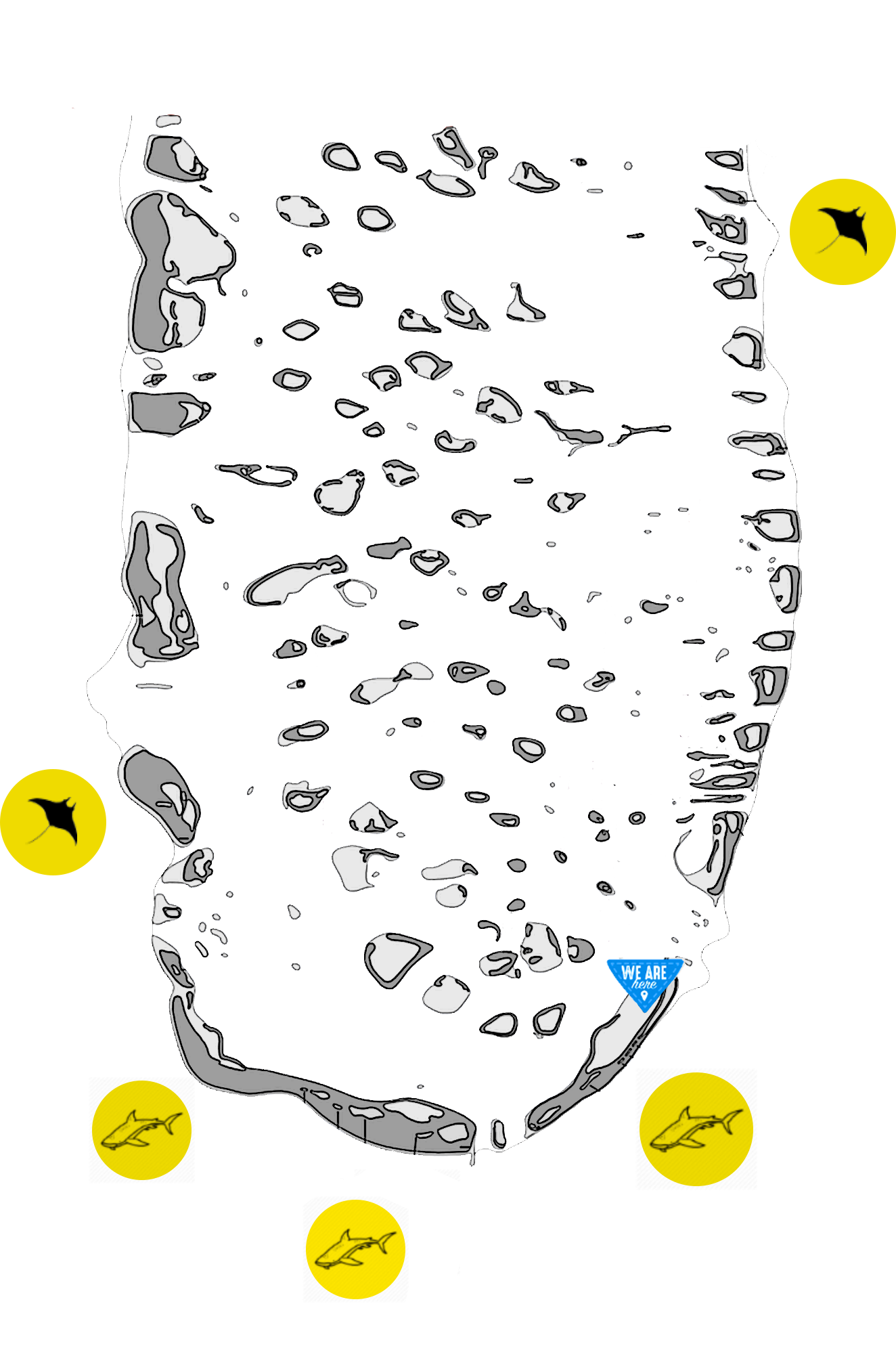 Great Locations
While there are unsurprisingly hundreds of world-class dive sites in the Maldives, South Ari Atoll is a unique place where everyone can find the best conditions for diving according to their abilities.
FULL SERVICE
If you haven't decided which course to take or what tour to book, you can use our full service list to choose.
read more
TOURS
Get away from your daily routine and join us on an amazing holiday trip to Dhigurah Island.
read more
Verified
Fantastic 5 days Had 5 brilliant days on Dhigurah diving with Oceanholic. Alberto, Sara, Erdam, Zidane, Samaa, Sami (sorry for the spelling) and the rest of the boat crew and divers were incredibly friendly, helpful and flexible.They knew I was desperate to see a whale shark and they did they very best to give me the chance to see one. Sadly, this wasn't my trip to see a whale shark but Mantas, Eagle Rays, Sting Rays, Grey, white and black tipped reef sharks, huge barracuda and, of course, turtles! Plus so much more!As with many dive trips, a really nice interesting mix of fantastic people to dive and spend time on the boat trips with. I've been diving all over the world and I've not found a friendlier more helpful dive centre. I throughly recommend them + staying at White Sands. Great combo.
HELENA M
February 22, 2023.
Verified
Excelente! Hemos buceado en Oceanholic en Dhigurah y estamos muy contentos. Son un equipo 10! Destacar el trato de Alberto, Sara, Bomba, Sojib, Samba y Samy! Son un grupo encantador, muy profesional que te hacen sentir genial. Una experiencia inolvidable!
Verified
Best dive center on Dhigurah I spent most of my days here diving with Oceanholic Divers. I really enjoyed my time on the dhoni as all guides and crew members were always attentive, funny but also knowledgeable. Dives were planned with care and briefings were given beforehand. After the dive the dhoni was always quite quick to pick us up out of the water. The BCD that I rented was also in good condition and clearly taken well care of. With this professional and safe way to dive, Oceanholic is the best dive center option Dhigurah has to offer.
Matt O
December 12, 2022.
Verified
Amazing dive team on a gorgeous island Oceanholics were a professional, young, local, and energetic team who made the dives fun! They also made every effort to help you find mantas, whale sharks, etc.Island stops between surface intervals were also a lovely touch, allowing us to see more of this beautiful area. Dhigurah island itself was probably the most beautiful island we've seen on our trip so that alone is worth the visit.
Verified
Gente simpática Guías muy simpáticos, un barco enorme y buenas inmersiones. Atención personalizadaMuy recomendable dentro de la isla de dhigurah
Igor S
November 10, 2022.
Verified
Diving in amazing dive spots with best locals scuba diving instructors I was so happy to dive with Eman, Saami and together with my diving team brothers. 20 dives together on best places around Dhigurah island and south part of atoll. Broken Rocks and Kudarah Thila was awesome places. Alimatha Jetty dive site with more then 30 nurse sharks was the most bright impression in this adventures. In addition to best dives I also catched pretty girl fitness group leader on OceanHollic boat. Yes, big group of yoga and fitness girls also traveled for this exciting snorkeling experience. So I can recommend diving experience for couples and single divers. OceanHolic is one of the best place for nurse sharks, whale sharks and mantas diving in high season. Instructors is super professional and take additional care for divers and snorkelers here.
Raffaella M
August 21, 2022.
Verified
FANTASTIC TEAM !!! Diving di riferimento della guest house White Sand Dhigurah (dove abbiamo alloggiato famiglia con 2 figli di 19 e 13 anni: ottima!). Come la guest house anche il diving è composto da ragazzi maldiviani. Simpatici, disponibili, professionali. Una vera sicurezza mentre si è in acqua. Uno spettacolo vederli fare snorkeling!Con loro abbiamo fatto varie escursioni: squalo balena, squali nutrice,mante, isola deserta. Siamo stati fortunati e abbiamo visto tutto! Forniscono sempre teli mare, bevande e musica! Diving super consigliato!!!From Italy Massimo, Raffaella, Silvia e Simone
Verified
Dhigurah stay My trip.to Dhigurah was very nice ...sth like touching my soul...There are beautyfull landscapes...sand bank...the reef is not really big but it s colourfull...you can meet turtles ray s and sth sharks and seasharks...i had the opportunity to swim with a turtle and it was amazing experience for me...the island is ideal for diving lessons there are a lot of diving schools...they can take you for a snorkeling trip also...on the top.of the island is lux resort but there s no opportunity to go to make a trip there...only to amaya resort but ist beautyfull and the infinity pool is stunning...food also good. I stayed at Dhiguvelli hotel for 3 stars it was quiet good. Optimale.stay lenght is 3...4 days. I advice to you to take a plane between the islands because speedboat is not a nice experience..bumping ride and a lot of people are vomiting there...prices of food are high so it s good to order food included to hotel stay...the environment is beautyfull ...it a local island not a resort. So if you need luxury Digurah is not the choice. If you need beautyfull environment chose digurah. This trip place is not really for kids...there s not anlot to do for them.
Verified
Great snorkeling experiences We did several snorkeling trips with the Oceanholic team and it was incredible and great. We had a lot of luck and we swam head to head with whale sharks and we met Mantas. The team is great and not only during the trips. They even do they best to offer activities in the evening. Just a great team and great people.
Verified
Super nette und professionelle Crew War Ende Februar 2022 dort und hatte eine tolle Zeit über und unter Wasser. Die gesamte Crew von Oceanholic ist spitze, super Betreuung und geniale Tauchgänge. Walhaie, Mantas, etc, alles was das Taucherherz begehrt. So macht Tauchurlaub Spaß. 5 ***** bis zum nächsten Mal, definitiv!Macht weiter so 🙏🏼🍀👌💪